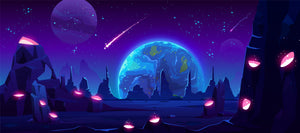 Welcome to Alien Shopping, the first store from the 4th dimension! 👽
Finally, a store for those who love the mysteries of the cosmos!
Here you will find exclusive jewelry, accessories and clothing. Share your passion for aliens, UFOs, and the otherworldly with our fantastic products.
Testimonials
"The t-shirts are very nice and fit perfectly. I am very happy with my purchase!"

Julie F.
"I will definitely order t-shirts again. I recommend!"

John J.
"The hoodies are of good quality."

Alex R.
Subscribe to our newsletter
Promotions, new products and sales. Directly to your inbox.